Discover more from Thoughts From Terry
The Dispatch covers what I am learning, what I'm reading, and technology tidbits you might find interesting.
Over 3,000 subscribers
Curiosity DID NOT KILL the cat - 🚗 Clean Diesel 🇩🇪 - Highly Effective Teens! #ThoughtsFromTerry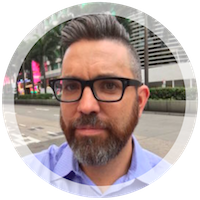 Good morning!

This week I have seen a large influx of new subscribers...so, WELCOME to the #ThoughtsFromTerry dispatch! I really hope you enjoy it. And, for those of you who have been sharing the dispatch, THANK YOU! Don't forget, I really enjoy hearing from you - so simply click reply if you have questions - or would just like to say hello.

It was a GREAT week. Why? Simple - I was home. It's the 13th week of the year, and in 2017 I have had only 2 full weeks that were not impacted by travel, or some offsite event. Don't get me wrong - I am very thankful for the opportunities I get to be a part of, but being fully engaged in the office for the entier week, and at home is a very nice and welcome change.
Today, you will need
I have been following Austin Kleon for a while, thanks to my friend Kaleb. Austin is a brilliant writer and artist that I continually gain inspiration from around journaling. This past week I stumbled across this visual connected with Austin's calendar. This is just brilliant, and a wonderfully simple mindset to carry into our days.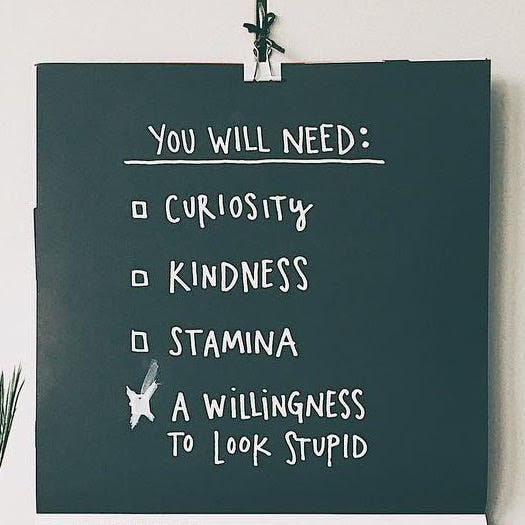 Curiosity - Ask a lot of questions. Keep an open mind.

Kindness - Have a heart for others. Care.

Stamina - Talent x Grind = Victory. Press on!!!

Willingness to look stupid - Check our pride at the door.
Rewind - Reflect - Respond
Like I mentioned above I have been inspired - and we all know that Inspiration needs to lead to action. Last week I wrote about the Moleskine Resurrection and it has been really great! I was able to have solid daily journals and wanted to make sure I was really learning along the way. So, on Sunday I took a few moments, maybe 15 min to go back over each day with a highlighter, and drew out the "majors" each day and then wrote those down on a section on Sunday called Rewind, Reflect, Respond. 16 items were highlighted in my rewind. I quickly reflected on these "Gladwell's Blink" - and then crafted a paragraph Responding to the reflection, and shared it with Robin and some of my personal board of directors.  Wow...it was a powerful paragraph.  I am excited to keep this process up. 

Rewind - Reflect - Respond (V1, V2, V3)
🇩🇪 Clean Diesel 🚗
Yes, by now most people are aware that Volkswagen Clean Diesel is a big joke. A 18 billion dollar and counting "oops" from VW that landed them in the middle of diesel-gate. If you're not aware, the quick recap is VW cheated, and lied -  caused the vehicles' NOx output to meet US standards during regulatory testing but emit up to 40 times more NOx in real-world driving. Volkswagen deployed this cheat in about eleven million cars worldwide, and 500,000 in the United States, during 2009 through 2015.
I bought a used 2012 VW Jetta Sportwagen TDi (Turbo diesel) in 2015, and quickly fell in love with it. Amazing gas mileage, great power and just pure German car fun, farfegnugen. The Diesel-gate issue directly affected me...my car is one of the pollution machines that had to go. Wednesday I turned in the car, and got a buyback direct deposti. It was a bittersweet day! I loved the car and didn't want to see it go. But, at the same time - I drove the car nearly 2 years, put 17k miles on it, and made just over $5,000 dollars doing it. #winning
Personal Mission Statement
This week Reia and I discussed "Begin with the end in mind" - Habit 2 from the book 7 Habits of Highly Effective Teens. The book, and the book study with Reia has been fantastic so far. Covey's 7 Habits are strong and really practical. I highly recommend the regular book for all adults, 7 Habits of HIghly Effective People, and if you have a teen - you need to pick up the other.
Anyway, this chapter really emphasizes the importance of a personal mission statement. So by the next time we meet, Reia will have worked with her mentor to develop her mission statement - and I will have mine as well. If you are looking for some starter tips on a mission statement you can go here. I imagine I will share mine with you all in a few weeks. 
Things I am watching closely from this week
Elon Musk launches Neuralink - a company dedicated to the fusion of the human brain and artificial intelligence. WSJ article The Verge article

Andy Rubin, founder of Android and possibly the most influential mobile device thought leader launched his own mobile phone company Essential. Andy gave a sneak peak of his new device here. Later in the week, Google Chairman chimed in confirming it will run Android. 

I ordered a Samsung Galaxy S8+ on Thursday. It looks stunning!
The Samsung DeX Dock also looks really nice - and functional in a mobile first world.
Weekend reads
ASK GREAT QUESTIONS
Mistakes are different than being WRONG.
Enjoy the read? Take a moment and send it to a friend.
Have a question, or something I should be covering? Just click reply to this email. 

Have a great week,
Terry