Discover more from Thoughts From Terry
The Dispatch covers what I am learning, what I'm reading, and technology tidbits you might find interesting.
Over 3,000 subscribers
NFL "Prime"time, Strategery and The Day In The Life of ME #ThoughtsFromTerry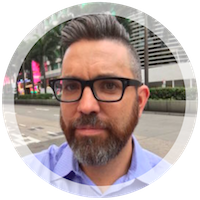 Howdy!

It's week fourteen of year two thousand and seventeen! That means 26.92% of the year is behind us already. How does that make you feel? What are you thinking about right now? Are you excited? Bummed? Shocked? Depressed?

Ok, I know - I am a little "off" or wired a little differently. But seriously - more than a quarter of the year is over...how are your doing with your goals, with the direction of your year? If you need a reboot - then reboot, today is your day. If your rockin' congratulations, encourage and motivate someone else! Spring is the time for growth, and Spring 2017 in Northern Hemisphere began a few weeks back on Monday, March 20. Lean in! 

Speaking of Spring - this weekend is a full on family of four assault in the yard! Follow Instagram for that chaos. 
Amazon & The NFL

Amazon continues to be a force in all things. This week, Amazon won the rights to Live stream the NFL with a 50 million dollar bid! (embarrassing Twitter) Amazon will bring this NFL stream offering to it Prime customers...just another way to grow the Prime subscription list. Well done Amazon - and just another reason you have launched Jeff Bezos to the 2nd wealthiest man in the world behind Bill Gates. 

In other related NFL news - Tony Romo (age 37) exits the NFL going into TV as a CBS broadcaster. Romo's press conference as he stepped aside for Dak Prescott was brilliant! 
Greatest Strength / Greatest Weakness

Fifteen years ago a mentor taught me one of the most valuable lessons ever!
Terry, you need to understand that your greatest strengths are also your greatest weaknesses.  
For the past 15 years now, I imagine this topic has been discussed or internally processed about 2-3 times a week (so approx 2,000 times). It's a game changer! Take some time and wrestle with it, and you will see.

For me, Strategy and Strategic Thinking is an strength.(Strategery) It's a talent and gift I steward and am blessed with. However, it's a weakness and potential liability. I like to have things planned out, develop the strategy, a full plan. It "can" be a limiter from moving forward if I don't have the full plan figured out. I have found it can and will be a crutch for action and movement if I allow it. With that in mind I share this thought:

What is the MINIMUM AMOUNT you need to know to START?

What is holding you back from starting what you have been wanting to start? A full plan? More research? More data points? More resources? A new day, month or year? I challenge you to try this - what is the least amount of information you need to start. Start now!
The day and week in the life

Just about weekly I get a email reply asking about my day, my routines or what my week looks like. Honestly I have not wanted to write about this because I think everyone's day, week, month, etc. is unique - but, the requests are not going away...so here we go. I will also say that every day and week can change depending on travel and different situations - but here is a "normal" week as of now.

Normal days:
4:30am - Wake: Coffee, Bible, journal (My wife calls this Dark Thirty.)
6:00am - Read news sites, email catch up, sometimes write
7:25am - Leave for work
7:45am - 4:00pm work //always different//
4:30pm - Workout
6:30pm - Dinner @home
9:30pm - Sleep

Regular weekly events:
Monday: LifeGroup in the evening
Tuesday/Thursday: Pick up Reia from work @7pm- creates good 1-1 time
Wednesday: Dinner date night with Robin while girls are at youth group
Friday: Like to work away from the office. It's catch up day
Saturday: Attend church, and serve at church together as a family. (No alarm, typically take a nap.)
Sunday: Events vary (No alarm, typically take a nap.)

Workouts:
I typically workout 6-7 days a week. 3 days a week with a great friend & workout buddy, 1-2 with Robin, and 1-2 solo. Solo workout days are typically cardio/elliptical training - my back is jacked up, so running is rough. I listen to books and podcasts for the most part during my solo training.

Daughter time:
I have monthly "dates" set with Reese and Reia. We try and have dinner out, coffee dates or something they enjoy on the schedule at least monthly. When the girls were younger we all did this together, but as they have grown older I enjoy alone time with them separately. As I have shared before, I also try and invest in the girls as leaders. This can be book studies or videos we watch together, but I try and invest in them in different ways.

Monthly calendar sync:
One of the best additions to our schedule is what we call "calendar sync". Robin and I get away, or sometimes when we have alone time at the house, we look at the upcoming days, weeks and months and make sure we are in sync with our schedules. With my travel, and Robin juggling the family schedule, this has really helped keep Robin and I on the same page. Neither one of us love surprises.

Quarterly budget review/revisions
Quarterly Robin and I sit down and review our budget, and financial plans. This allows for solid discussion and review of the plan, and gives space for revisions and reflections on how the budget and financial plan is working. Annually we typically make bigger adjustments based off new and updated plans.

Vacations/Family Trips:
Yes, there is a BIG difference between a vacation and a family trip. Both are great, but they serve different purposes. Robin and I love our time together, but we also love family vacations. We set aside money every month in our budget for trips. We like to get away at least once a year as a family to experience something new. In a few months we are heading on a cruise for the first time ever as a family.  

I think that covers the majors and most the questions I field. Let me know if there is anything I missed.
Dude, where's my car?

A while back my friend and dispatch reader Ben shot me an email about some technology he was loving - Zubie. Zubie is like FitBit for your car. Install it and let the monitoring begin, gas mileage, driving habits, crash detection, etc.

After research and looking at our "needs" //ok, not needs, my wants// I opted for Zubie competitor Automatic. After a few weeks of usage with Automatic I love the data. Super easy to push all driving trips to Google Sheets for tax reasons. Easy to get alerts about car issues. Where is my car? And driving styles and habits that will come in handy with teenagers. I can definitely recommend Automatic Pro - learn more here.
Weekend reads

Leadership will change you
Understanding Disruption

The Psychology of Human Misjudgment - Charlie Munger
This is an amazing 1 hour and 16 min wisdom session.
YouTube
PDF
Before I Hit Send

Syria - Just hours ago, US launched an airstrike on a military airbase. This primarily was in response to a horrific chemical weapons attack. Important to know who's with us, who's against this. Want to understand the Syrian Cival war? Summary here.

Facebook/Instagram copy SnapChat...and now Apple follows suit. Clips now available on your iPhone!

YouTube TV has launched in the Chicago, Los Angeles, New York City, Philadelphia, and San Francisco Bay areas - $35/mo for 6 users. Details here.

The latest Craig Groeschel Leadership podcast came out this week. Episode 19: Principals of higher hiring, part 1.  More here. I will be listening on my drive to the office this morning. 
Enjoy the read? Take a moment and send it to a friend.
Have a question, or something I should be covering? Just click reply to this email. 

Have a great week,
Terry