Discover more from Thoughts From Terry
The Dispatch covers what I am learning, what I'm reading, and technology tidbits you might find interesting.
Over 3,000 subscribers
Lifelong Learning, Romans 12, and You Take The Mic. #ThoughtsFromTerry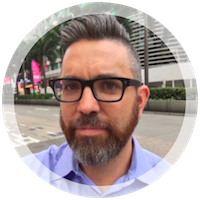 Hi All!

I hope your week has been great! If you were not aware - it's not technically summer yet. For the Northern Hemisphere, Summer 2017 will begin next Tuesday, June 20 (and December 20th for those of you in the Southern Hemisphere). Yesterday was the first day for me that it "felt" like summer. You know, that heat that hits you in the face like Mike Tyson. It's not my favorite time of year, but I like it much more than winter!

Later today I get to spend a chunk of time with the Bethel team who is in town for the Worship Night at the OKC Civic Center. I am looking forward to the time, as well as the worship night.
Lifelong Learning
The past month or so I have been thinking about an upcoming Leader Essentials session I have the privilege to speak at. Leader Essentials is a dedicated training event for new leaders at Life.Church geared toward training and equipping leaders within our culture. I like to use this time to highlight the DNA of digerati leadership, but also highlight what I am learning and leading through personally.  While preparing for the talk, I found myself drawn towards my learning through failing and how critically important mindsets are.

In thinking through those mindsets and mental models, it became abundantly clear that death often produces life. I know that is extreme, but stick with me. I was continually seeing the theme around being willing to leave the old way of thinking or doing, which is death, to step into the new, which is life. Why was this concept hitting me again and again? I am not sure. But this is what I do know - we learn on a need to know basis. A great mentor of mine tells me this all the time. This illustrates why new learnings jump out, or off the page, and we think we have never seen them before. The truth is we have seen it before. We did read it last week, last year, or a decade ago. But this time, in this season it jumped out because we needed to learn it.

Our mindsets and mental models are powerful. They drive just about everything we do or don't do. I know that in my life when something  "new" happened, the old had to die. At age 21 when I gave my life to Christ, it was leaving the old way of thinking for the new. As the journey with Christ continued over the years, the process continued. Many mindsets and mental models from my past were continually challenged, and the old had to die to produce a new way of life. I believe this process is never ending while we are on Earth. Our growth must continue, our wisdom needs to broaden, and our mindsets advance. Every time I spend time with some of my "older" wiser friends in their 60s/70s I am reminded I still have a ways to go.

Life is an active and evolving process that produces learnings, experiences, and all sorts of feelings and emotions that follow. It's my desire, my hope, and most importantly my prayer, that my journey with Christ is never static. I pray that I never wake up thinking I have arrived. How about you? Are you a lifelong learner? What jumps to mind around this topic? Anything in your life that needs to die in order to bring new?

Jesus said in Mark 8:35, "If you try to hang on to your life, you will lose it. But if you give up your life for my sake and for the sake of the Good News, you will save it."

Paul said in Galatians 2:20, "I have been crucified with Christ. It is no longer I who live, but Christ who lives in me. And the life I now live in the flesh I live by faith in the Son of God, who loved me and gave himself for me."

Paul said in Titus 3:5, "he saved us, not because of righteous things we had done, but because of his mercy. He saved us through the washing of rebirth and renewal by the Holy Spirit."
Podcasts & Books
John Piper preached an amazing message in 2004 called "The Renewed Mind and How to Have It." Piper unpacks Romans 12 in a powerful sermon. I highly recommend listening or watching it. There are also some great notes to read and consume here.

"The problem with our minds is not merely that we are finite, but that our minds are fallen." - John Piper

Robin has been re-reading Switch on Your Brain and singing it's praises. I overhear her recommend it often to others, so I am recommending it to you. In light of this theme and thoughts in this email, I figured it was the perfect time to highlight this great book.
Switch On Your Brain, by Dr. Caroline Leaf

"You decide every moment of every day who you are and what you believe in. You get a second chance every second." - Caroline Leaf
Interesting Products & Services
Pocket
Pocket is one of my most used, and favorite tools! What is Pocket? Simple, Pocket is where I save anything I am interested in reading or consuming later. I read a ton...but I do not read much in the moment, most of my reading happens later. I use Pocket on my iPhone, Android, laptop, and tablet. Anything I want to consume, I save to Pocket. You can check it out here.
How about you?
Next week I am going to start featuring you! Let me know what product or service you are using and loving, and I just might give you the microphone. Reply now with your product or service review.
Recommended Weekend reads
Growth-Centric mentorship should be at least 20% of your time at work.
Enjoy the read? Take a moment and send it to a friend.
Have a question, or something I should be covering? Just click reply to this email. 

Have a great week,
Terry