Discover more from Thoughts From Terry
The Dispatch covers what I am learning, what I'm reading, and technology tidbits you might find interesting.
Over 3,000 subscribers
#ThoughtsFromTerry Dispatch w.35.2017
Dispatch w.35.2017
Happy Friday...and welcome to September. According to my amazing wife, and avid Christmas lover, we have 17 Fridays until Christmas. Yes, Robin is the female version of Buddy the Elf! 

Last week I had a great digerati team meeting casting vision around some new hills we are going to climb together. My writing's this week - A New Approach and Center of Mass were discussion points in our time together. I love this team, and so thankful to be a part of the amazing movement.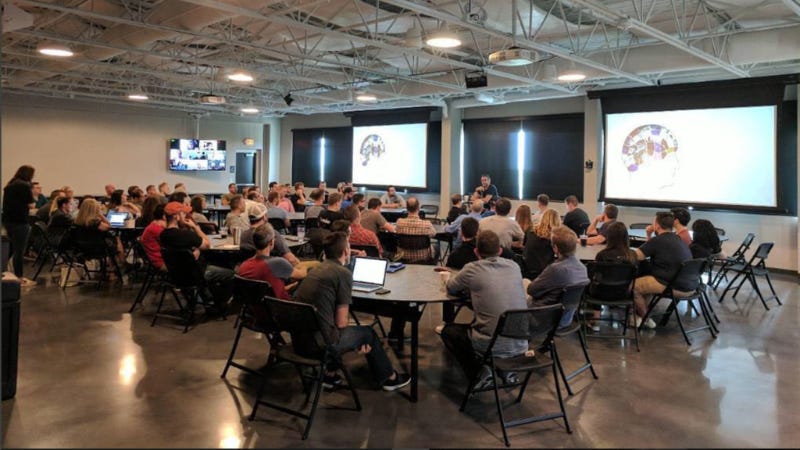 A last minute audible to chat with the full #Digerati team. So blown away with this group and what God continues to do in and through them. This team models @craiggroeschel message of DIFFERENT. — A Daily Call to a DIFFERENT Standard.
CENTER OF MASS
In the 1960s Dick Fosbury changed the sport of high jumping as we know it. A somewhat unsuccessful athlete who could not compete with the stronger, more capable sportsmen opted for a new approach. Fosbury created a new technique and way of high jumping - and it stunned his coaches, other athletes and eventually the world. What was once an average at best athlete became an Olympic world record holder just a few years later. How? This new technique moved the center of mass.  Watch this 4min video before reading further. 
Move the "Center of Mass"

Everything changed for the high jump when the simple understanding of physics was leveraged. When Dick Fosbury used the Fosbury Flop, the center of mass was moved outside of his body. This was critical because when the center of mass was moved outside of his body, with the same amount of energy, the jumper went higher. The bar was raised. 

Wow! Such a perfect illustration of how Christ works in and through us all. Many people tend to keep the "center of mass" inside of them and draw the "masses" to themselves. Self-confident. Self-made. Self-driven. Etc, etc.  Different contexts highlight this in various ways. For me, it is recognizing and being self-aware that the center of mass needs to live outside of myself. Recognizing that we can do more through Christ when we operate in His power, not our own. Living for Him with a selfless heart, with a God-confidence giving Him all the glory and credit will result in God working and blessing in ways we could never imagine. 

You see, just like the discovery with the Fosbury Flop, Dick Fosbury needed to go backward to make a great leap forward. In our society today, to take the leap that is necessary to fully glorify Christ, we must move our center of mass outside ourselves and take what appears as a great leap backward. The Gospel of John chapter 3 sums it all up in a powerful statement:
 
"He must become greater; I must become less." - John 3:30

The Center of Mass - where is yours?
"When God's glory is manifested in your life, others will look at you and say, "Wow, what a great God you serve."
— Joyce Meyer
Other writings this week: A New Approach
WHOLE 30
Robin and I just finished our August, Whole 30 eating plan. What is Whole 30 you ask? Details here.  For Robin and I both, our eating habits tend to follow the image from A New Approach...growth, tweaks, solid momentum forward, then for some reason or another (summer cruise, ice cream love, etc,etc.) we find ourselves needing a new approach or a reboot. Whole 30 is a great reboot for us both - I always feel SO MUCH better. For me, moving forward I will maintain many elements of Whole 30, but give myself a little more freedom. 
CONSISTENT WORKOUTS
No doubt that a key reason I am feeling so good right now (in addition to Whole 30) is my commitment to consistent workouts. I have been fairly consistent with fitness for the past 6 years. Competitive cycling started the fitness focus, then when I gave up racing bikes a few years ago I shifted to weight lifting. On average, I am in the gym 6 days a week - 4 days of weights, 2 days of cardio. When I am in the gym 7 days it would be a 3rd day of cardio. My goal for consistent workouts is very, very simple...fitness. I am in my mid-40s and my desire is to be fit and healthy as I grow older and do everything in my power to have a long and healthy life to see and enjoy grandchildren and even great grandchildren. The decisions we make today will define and shape our future.

Five year Fridays reminds me of the importance of this.
The decisions you make TODAY shape your world tomorrow.
One closing thought; before you write me off and say you're too busy for consistent workouts, or life doesn't allow it. Whatever your excuse may be, I challenge it. I don't know your situation, but I am confident whatever is important to you is prioritized and gets done. Review your priorities, reboot and set out on a new path forward.
QUOTE OF THE WEEK
We set young leaders up for a fall if we encourage them to envision what they can do before they consider the kind of person they should be.
- R. Ruth Barton