Discover more from Thoughts From Terry
The Dispatch covers what I am learning, what I'm reading, and technology tidbits you might find interesting.
Over 3,000 subscribers
#ThoughtsFromTerry Dispatch w.44.2017
Dispatch w.44.2017
Happy Friday!

This week I meet the man I want to be when I grow up. Yea, I know I am well into my 40's, but he is 99 and turns 100 in a few days. Meet Orville Rogers.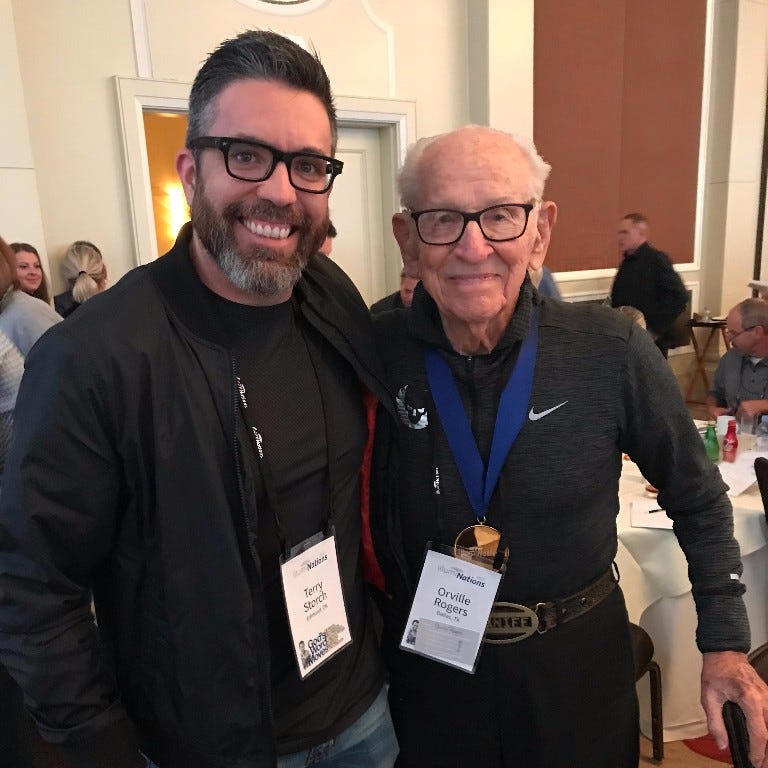 Orville Rogers
Pilot and world champion runner Orville Rogers trained bomber pilots in World War II, flew the B-36 on secret missions during the Korean Conflict, ferried airplanes to remote Baptist missions all over the world, and managed to squeeze in a thirty-one-year career as a pilot with Braniff Airways. After retirement, he and Esther Beth, his wife of sixty-four–plus years, served thirteen months with the Baptist Mission in Tanzania. With her help on the ground, he flew goods and passengers to outposts largely inaccessible by land. Orville took up running at age fifty-one and ran his first marathon six years later. At age ninety, just two weeks after Beth's passing, he attended his first national meet, where he broke two world records. He holds fifteen world records to date and continues to compete annually. Invariably, he wins. He has two sons, Bill and Rick, and a daughter, Susan, as well as, nine grandchildren, and ten great-grandchildren. He lives in Dallas, Texas.

What is not talked about in Orville's bio is his generosity mindset. Most people who are as generous at Orville don't talk or share much about their generosity. Orville calculated his lifetime income, and it landed somewhere near 1.5 million dollars over his lifetime. But get this, on a total income of 1.5 million dollars, Orville has been able to give a generous about of 32+ million dollars. "HOW?!" You may be asking yourself. Yes, by his investments and his lifestyle decisions Orville has genuinely been the model Christ talked about with the parable of the talents. Amazing.

When I grow up, I want to be just like Orville Rogers. Enjoying family and friends, skydiving at 90, living a crazy active life, sharing Jesus, investing in others, and living an extravagantly generous life.
iPHONE X
Refresh, Refresh, Refresh. That was my action item at 3am last Friday morning in Washington DC trying to get in the first batch of iPhone X pre-orders. Well, 12 min later the store came up for me, and the X was ordered. Unfortunately, I was in the 3rd wave, with a delivery date of Nov 17th. So I will walk in shame for a few weeks I suppose. If you got your X today let me know what you think. I doubt Orville was awake, ordering the X at 3 am...point taken.
RECOMMENDED WEEKEND READING
This week, a scribbled thought from Einstein sold for 1.5 million dollars. Sounds like some solid advice! Washington Post article.

"A calm and modest life brings more happiness than the pursuit of success combined with constant restlessness,"
- Albert Einstein

Confirmation Bias plagues us all! This plays right into many of my posts and rants about our mindsets, and how our thoughts and feeling lie to us. This is a great read that gives some good insight into the problem and offers some useful tips to help break free of the biases we carry around.

Opioid Crisis link that was missed last week. Sorry!
"People want guidance, not rhetoric; they need to know what the plan of action is and how it will be implemented. They want to be given responsibility to help solve the problem and the authority to act on it." -Howard Schultz, Starbucks​
Thank you so much for subscribing and reading the dispatch. As always feel free to reply with your thoughts, requests just general feedback. I always enjoy hearing from you!

Enjoy your weekend.