Discover more from Thoughts From Terry
The Dispatch covers what I am learning, what I'm reading, and technology tidbits you might find interesting.
Over 3,000 subscribers
#ThoughtsFromTerry Dispatch w.28.2018
Dispatch w.28.2018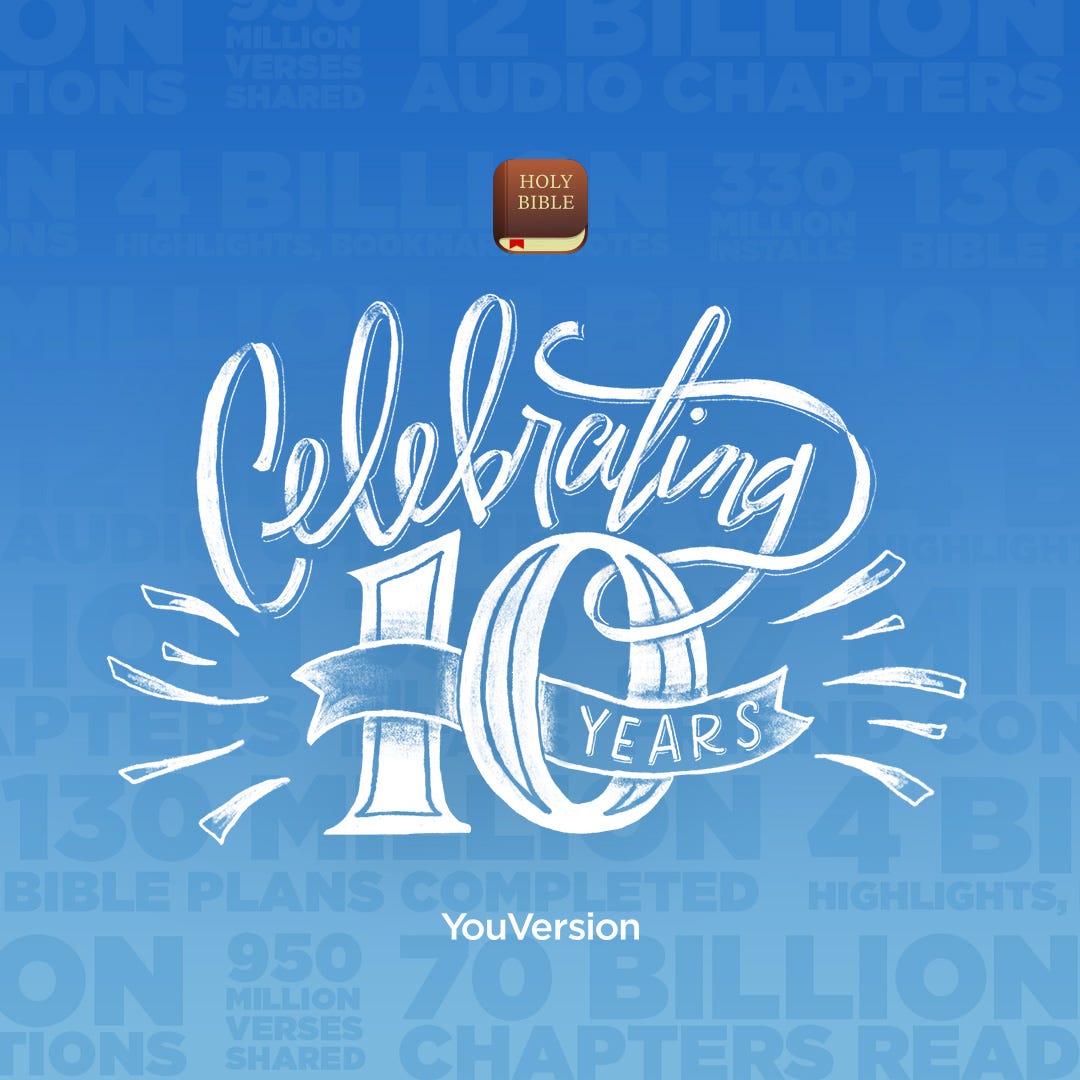 It's hard to believe it's been ten years since we launched the YouVersion Bible App. On the one hand, those memories feel like a yesterday, but on the other, it can feel like an eternity ago. I have often thought about writing a book detailing the full story of YouVersion, just because it's such a fascinating story of how God works in mighty ways and many of the details are not able to be told in the limited time the story is shared. When Bobby and I ventured down this path to build a Bible that was very different, highly focused on community engagement, we had no idea what to expect. It's been an honor to be a part of this God-sized and blessed journey since the beginning; it's truly humbling. YouVersion is a perfect example of unity and partnership. Collectively we are better together. The team God brought together, the partnerships God wove together, and the unity that could only come from Him is glorious.
'Now all glory to God, who is able, through his mighty power at work within us, to accomplish infinitely more than we might ask or think. Glory to him in the church and in Christ Jesus through all generations forever and ever! Amen.'
- Ephesians 3:20-21
If you have not watched this ten-year anniversary video, it's pretty neat.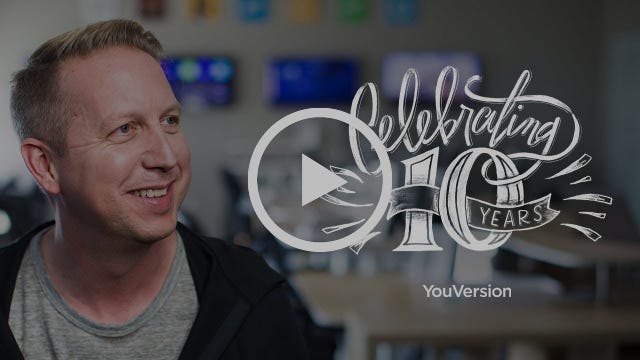 YouVersion has touched and impacted hundreds of millions of people's lives across the globe. Just writing that sentence is humbling and crazy to try and process. But honestly, for me, I am most thankful for the fact that because of what God has done with YouVersion, because of the team that He has assembled, because of the accessibility and portability of God's Word, my life has been changed. Yes, 330 million people have installed the Bible app to date, but I am different because of it. Reading and engaging in the Bible has sharpened me, and changed the trajectory of my life...and for that, I am forever grateful.

Here's to the next ten years, and the next big new idea!
YOUR A LIAR
If you have read the dispatch for a while, you know I am a huge Gladwell fan. One of his latest podcasts is fascinating. In light of the ten year anniversary of the YouVersion Bible App, I am wondering how many of the memories I have are real and accurate. 😀
iTunes  | Google Play | Spotify
BUT ARE YOU DOING YOUR WORK?
A great read from Seth. I can immediately think of those around me who embody this and model it so well. This is an area I continually look to improve in and expand my leadership influence. 
Doing your job is not always the same as doing the work. The "soft stuff" might matter more than you think. Doing the work is the ticket you buy for the privilege of doing the other part.
https://seths.blog/2018/07/but-are-you-doing-your-job/
Imagine what the world would be like if we treated others with inherent and equal dignity and respect, seeing the divine DNA in ourselves and everyone else too—regardless of ethnicity, religion, gender, sexual orientation, nationality, appearance, or social class. - Richard Rohr