Discover more from Thoughts From Terry
The Dispatch covers what I am learning, what I'm reading, and technology tidbits you might find interesting.
Over 3,000 subscribers
#ThoughtsFromTerry Dispatch w.41.2018
Dispatch w.41.2018
Mentors, Honor, Credit, and Leadership
A collision of things has happened to me these past weeks that makes me want to share a few thoughts on mentors, honor, credit and more. At the Life.Church Family Reunion event it was so great to see Pastor Craig interview and talk with "his pastor" Nick Harris. I have heard about Pastor Nick over my twelve years on staff, but I have never met Nick. To watch Craig honor Nick, and see how much Craig has learned from Nick was so inspiring. I knew Nick was an influence and mentor to Craig, but seeing the one on one interview it gave me a new insight on the relationship.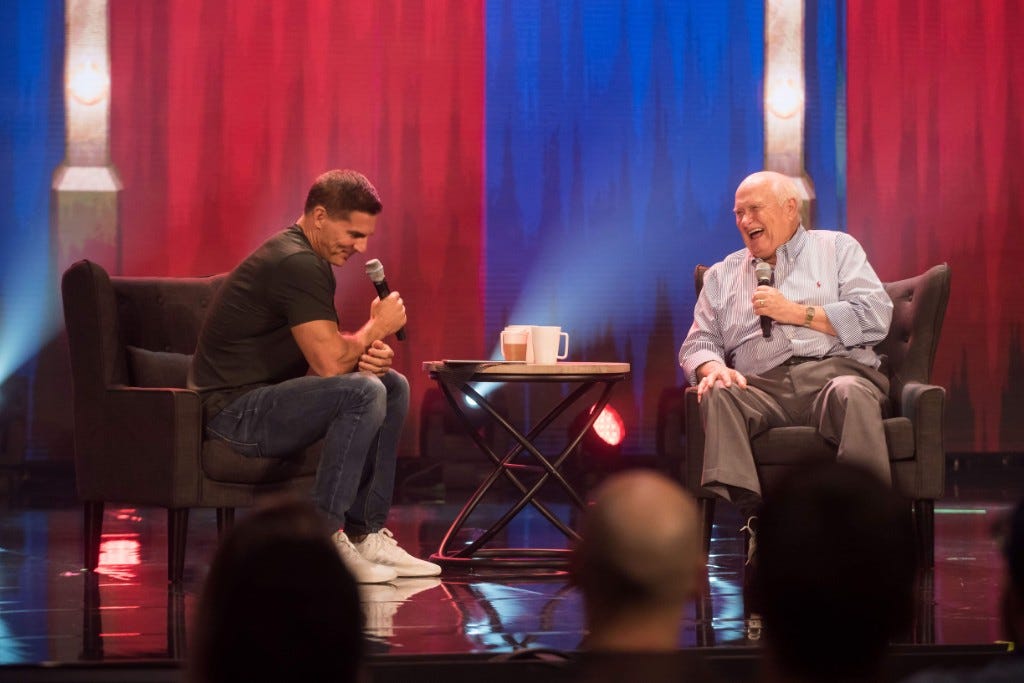 Pastor Craig & Pastor Nick
Also during the family reunion, we celebrated Pastor Sam's and Pastor Jerry's 20 year anniversaries on staff. When pastor Craig talks about Jerry, and he does this often, he shares openly about how hiring Jerry was the best decision he has made in the ministry. Craig recognizes the value Jerry brought, and continues to bring to the organization, and publicly shares this. The public recognition from Craig about Jerry and the interview with pastor Nick reminded me how critically important it is as leaders that we recognize openly and privately that we stand on the shoulders of others. Sharing like this is not just about past honor, it is a present honor and offering credit where credit is due. The fact is we can not do what we do on our own,  we are not the center of the universe and, as individuals are not self-made. The public honoring of others, as pastor Craig does so well with Jerry, is not just truth. It is a reminder to all of us that leaders are only as good as those they surround ourselves with.

This principle is also true as we share about our leaders. For many who find themselves in the background or the shadows, it is critically important to continue to honor your leaders publicly as well as privately. A real help when it comes to honoring is realizing the unique gifts and talents that are brought to the table. Often "credit" is given to the public face or personality and the "behind the scenes" team members are the forgotten ones. I am reading a fantastic book right now called Rocket Fuel that puts words to this well. It unpacks the Visionaries & Integrators (VI's). Typically speaking, the visionaries are the public facing and credit receiving, while the integrators are the behind the scenes contributors who often are never known. One is not better than the other; both are needed and critically important. The book unpacks dozens of examples of VI's, their roles, and how they perfectly complement each other and build amazing organizations. I am blessed to work with and for Bobby Gruenewald, a V who is a fantastic visionary leader, and has pushed me and developed me in incredible ways. 

Finally, this past weekend I was able to visit with a long time dear friend Jeff Pelletier. Jeff and I have known each other for 22 years. We have lived out our friendship from day one "As iron sharpens iron, so a friend sharpens a friend." - ‭‭Proverbs‬ ‭27:17‬.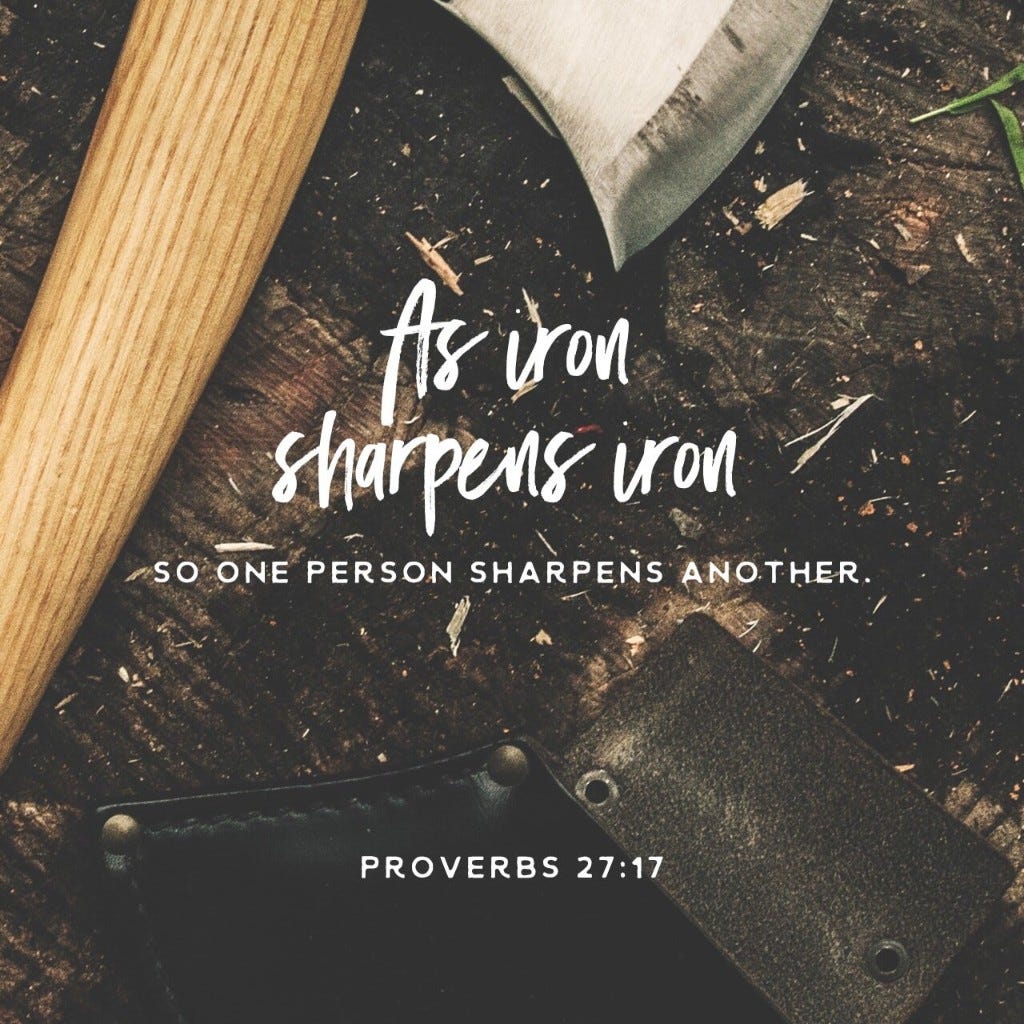 I have a powerful and wonderful group of men surrounding me, speaking into my life and making me better. I stand on the shoulders of so many people who have helped me become who I am, and I currently stand on the shoulders of a fantastic team around me who are the real heroes. Today I am reminded of the words of my friend and mentor J. Lee Whittington that "The fruit of your leadership grows on others trees." Jeff and J. Lee, you guys are a real blessing to me, I wouldn't be the man I am today without you! 
GOOGLE MAPS VS. WAZE
I hear many people compare Google Maps and Waze. Most I talk with are relatively passionate about why they like one over the other, and how one is so much better at navigation, etc. I have never really had an opinion besides I don't love the childlike interface of Waze. Waze to me looks like a Kids Navigation App. But, this last weekend on the drive from Oklahoma City to Dallas during the massive traffic of Texas/OU weekend, I put them to the side by side test.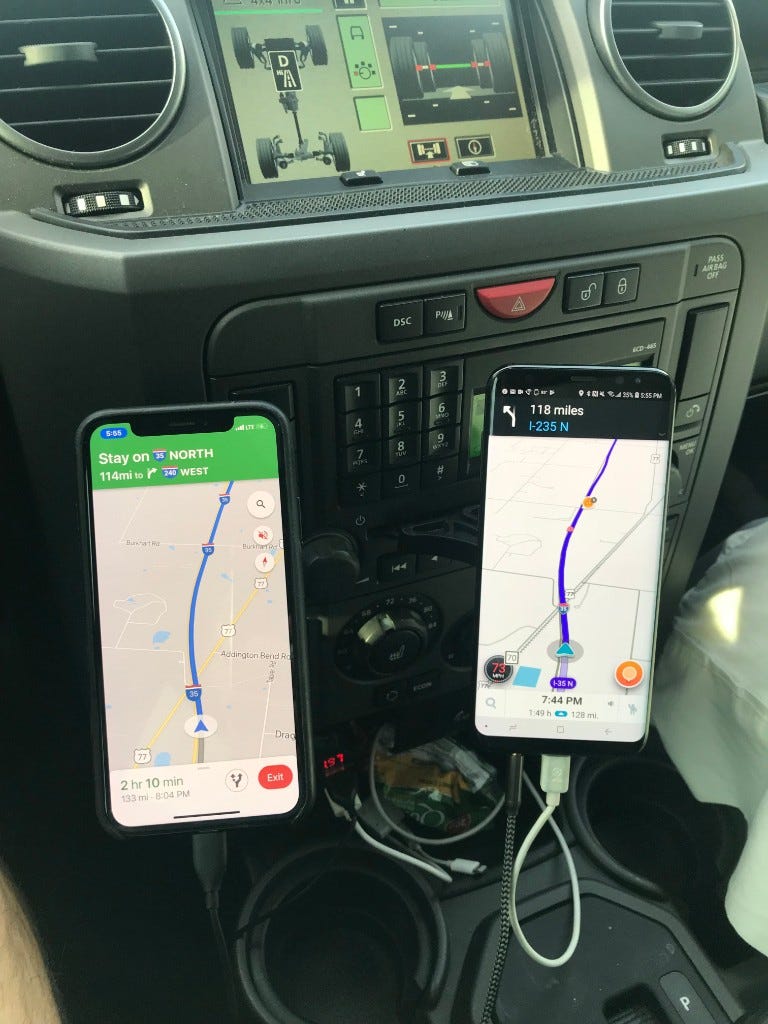 Google Maps - Waze
Winner?
Well, it depends. For us, and our experience, Google Maps was slightly better at predicting traffic, and rerouting accurately. Every time, Google Maps found a faster route and edged out Waze with routing. However, if you are more into Alerts, and Police sightings, hands down Waze is your app. Nearly a dozen times Waze alerted me of Police, and twice there were the police that could have given me a speeding ticket if I didn't pay attention to Waze.

So, my experience didn't have a clear winner, but if I were forced to choose just one, I would say I would pick Waze for road trips, and Google Maps around the city. Both are great tools, just a little better at different functions.
RECOMMENDED WEEKEND READING
Leaders Should Ask for Help

Asking for help can be your superpower!I know, sounds crazy...but it's so true. I have learned this the hard way, and continue to try and get better and better at being vulnerable and transparent where I need help. Here is a great article about asking for help. 

https://eblingroup.com/blog/three-reasons-leaders-should-ask-for-help/
Financial Independence Movement

Mr. Money Mustache has some unique and often extreme ways of creating financial independence. I think most of the extreme concepts are only viewed as extreme because our consumerist society has such a hard time understanding living within your means. I really enjoyed this article about the FIRE movement.

http://www.mrmoneymustache.com/2018/10/05/the-fire-movement/
Allow for Pushback

Building a team and a culture that allows for pushback is absolutely critical to have a high performing organization. I loved this quote in the article; "A team full of "yes men" accomplishes very little that is also new. A team of "let's think this through" men will bring new ideas to the table."

https://michaelhyatt.com/allow-for-pushback/
"Don't mistake activity for productivity. Creativity is productivity—it just doesn't feel like it at first."  ― Gino Wickman