Discover more from Thoughts From Terry
The Dispatch covers what I am learning, what I'm reading, and technology tidbits you might find interesting.
Over 3,000 subscribers
#ThoughtsFromTerry Dispatch w.48.2018
Dispatch w.48.2018
Thanksgiving, Black Friday, Cyber Monday, and Giving Tuesday have come and gone. That means Christmas is upon us...24 days.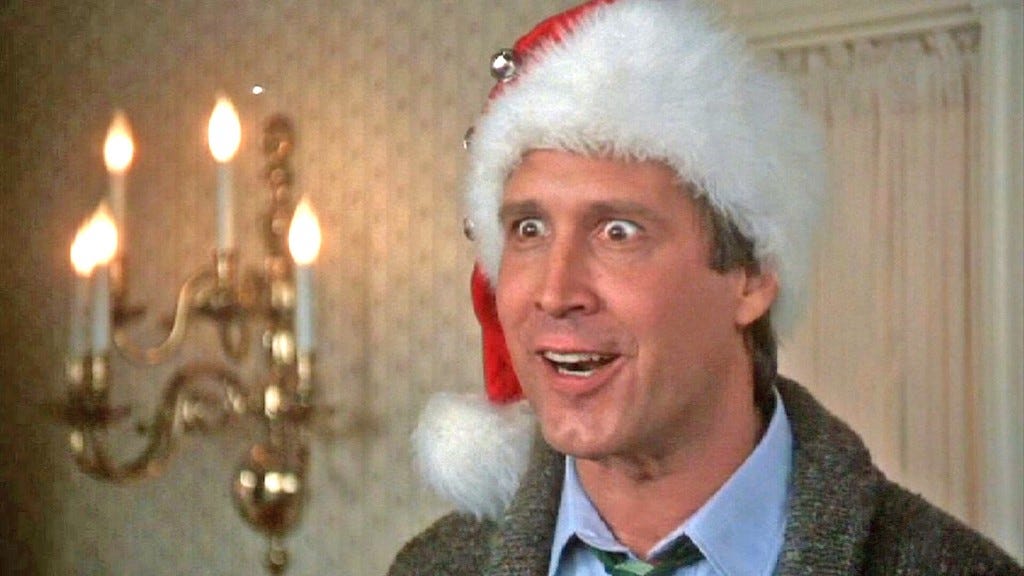 "Oh, Eddie... If I woke up tomorrow with my head sewn to the carpet, I wouldn't be more surprised than I am now."
Great Audible Listens
Two of my favorite recent Audible listens couldn't be more different. Tom Peters' Excellence Dividend is a must read/listen for anyone in leadership. Falling Upward by Father Richard Rohr was so good I listened to it twice, back to back. 

Disturbing
On Monday morning, my Google Assistant brought this news update to my attention: Scientists in China claim to have created first gene-edited human babies.

Google Home Hub
Simply put, the Google Home Hub is an amazing device! Over the years, we have seen Google progress with its design and improved product development. The Home Hub is quite possibly the best Google product I have seen. If you are in the market for a Smart Speaker and Assistant, I highly recommend the Home Hub. Ours in the kitchen and it does all the normal smart device functions: timers, measurements, music, controls smart lights, and the latest weather. However, the best and most used features are the digital photo frame and broadcast. Broadcast is a high-tech version of the old school intercoms we had in the '70s and '80s. We broadcast messages through the Google devices in our home to communicate with the kids. It works great! 

Amazon Delivery
Amazon continues to press forward in owning the end-to-end customer experience. The Prime delivery vans are becoming a regular fixture in the Oklahoma City metro area. For the first time, I received a push notification including a photo of our doorstep that the package had been delivered. Since 1994, Amazon has been "disrupting" the industry, and the next ten years we will see more and more innovation driven by AI and machine learning. Additionally, Amazon is now "predicting" what you will buy, before you buy it, and making warehouse adjustments! 
NOTEWORTHY
Global smart speaker shipments totaled 19.7M units in the third quarter, which is up 137% year-over-year, according to Canalys. Amazon shipped 6.3M Echo units, reclaiming the top position from Google which delivered 5.9M Home devices. Amazon held 31.9% market share while Google had 29.8%. -Keep Reading
Jeff Bezos tells Amazon staff he anticipates the company will someday fail, noting most large firms don't last hundreds of years, reports CNBC. The comments were in response to a question about what Amazon had learned about the bankruptcy of Sears and other retailers. Bezos says it's the company's responsibility to focus on customers to ensure delayed failure for as long as possible. -Keep Reading
YouVersion Bible Plans
A few weeks ago a good friend, and reader of the dispatch, recommended I share some of my favorite YouVersion Bible Plans. Great idea, Cindy! As I scroll back over the last few months, here are a few that stand out.

Revelation Explained | Part 1 of 7
Through the Word with Pastor Kris Langham is fantastic. I specifically liked his Revelation 7 part series, as it's such a great breakdown of the book of Revelation. This is possibly my favorite Plan of 2018.

The Bible Project | Gospels
If you have not watched any of The Bible Project, then you are definitely missing out. For 2018, I decided to not read through the Bible, but to read many different plans starting with The Gospels. I watched the videos everyday for 90 days... which is a bit different than how this is plan structured, but I wanted to see the video everyday. The Bible Project videos are absolutely stellar!

Holy Hustle: Embrace A Work-Hard, Rest-Well Life
This 10 day plan from Crystal Stine was exactly what I needed. I read this plan first with a group of guys with Plans with Friends, and then I did it again with Robin and the girls. Excellent plan!