Discover more from Thoughts From Terry
The Dispatch covers what I am learning, what I'm reading, and technology tidbits you might find interesting.
Over 3,000 subscribers
Terry Storch Dispatch w.04.2020
Dispatch w.04.2020
You will continue to suffer if you have an emotional reaction to everything that is said to you. True power is sitting back and observing things with logic. True power is restraint. If words control you that means everyone else can control you. Breathe and allow things to pass. - Warren Buffet
Data Has a Seat at the Table. This is an axiom that drives a big part of our culture and thinking on the Digerati team at Life.Church. Data doesn't make decisions; it informs decisions. At the same time, it's important to have the right data in front of us, and have it visualized in a way that is meaningful and easy to digest. This allows us to make wise decisions. I saw this data visualization video this week and absolutely loved it.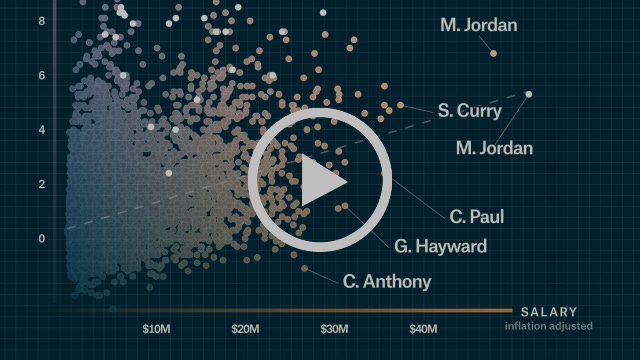 NBA: The Worst, Highest-Paid NBA Player, Ever. 

Forwarded this newsletter? The Dispatch offers bite-sized chunks of leadership, technology and random tidbits I found interesting this week. 
You can sign up here.

"Impostor Syndrome is like being a secret agent — in the most depressing way imaginable," says Eric Barker in this excellent article. Do you know the feeling? Do you struggle with Imposter Syndrome? I know I have, and still do sometimes. Eric unpacks some great insight on how to overcome it. Read it.

On the same topic, Michelle Obama gives her thoughts and ideas on How To Get Over Imposter Syndrome. I loved the encouragement the former First Lady offers. She says, "you can achieve what it is you put your mind to—as long as you believe in your ability to do so." Watch Now

The Trillion Dollar Club continues to grow. What is the Trillion Dollar Club you ask? Well, it's a group or club of public companies that have reached the trillion dollar market valuation. The newest addition to the club is Alphabet, the parent company of Google. Alphabet joined Apple, Microsoft, and Saudi Aramco in this elite club. You maybe wondering who's approaching the same status. Well, I'm glad you asked. Amazon was previously in the club, but has fallen out and is now sitting around $925 million and climbing. After Amazon, there is a big drop off with the next batch in the $500+ million range. It's pretty fascinating. WiKi Listin

Warren Buffett is one of my favorite people to learn from. Just the other day, Robin shared the Buffett quote I used above to our family group chat. Such applicable words and thoughts for us all to process and apply. Buffett didn't make it to the richest man in the world without some incredible wisdom. This video is a few years old, but in four minutes, you will learn SO much. Here is Buffett speaking on Market Corrections. Watch Now

Here are a few of my personal thoughts and writings from the week.