Discover more from Thoughts From Terry
The Dispatch covers what I am learning, what I'm reading, and technology tidbits you might find interesting.
Over 3,000 subscribers
Terry Storch Dispatch w.23.2020
Dispatch w.23.2020

"Injustice anywhere is a threat to justice everywhere." - Martin Luther King Jr.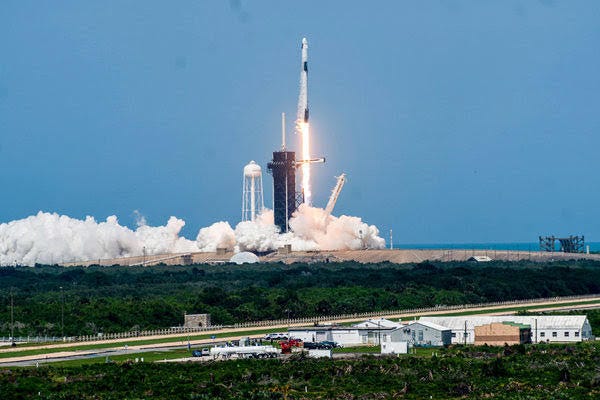 Doug Mills/The New York Times
This week was filled with a lot of emotion. On Saturday, May 30, 2020, at 2:22pm CDT, history was made as Space X lifted off carrying two American astronauts into Orbit. As our family sat in front of the TV watching the liftoff of Falcon 9, I started to tear up. I think some of the emotion is connected to my generation watching many of these launches, and that my memory can't escape the horrific experience of the Space Shuttle Challenger that exploded in 1986. I was in elementary school, and I remember that day vividly. I'm sure this was a part of the emotion I was feeling, as well as the excitement and joy seeing this shuttle safely liftoff. It's so amazing to me that we have this type of technology, and seeing the booster rocket come safely back to earth after landing itself on a drone ship in the ocean, well, that's just freaking outstanding.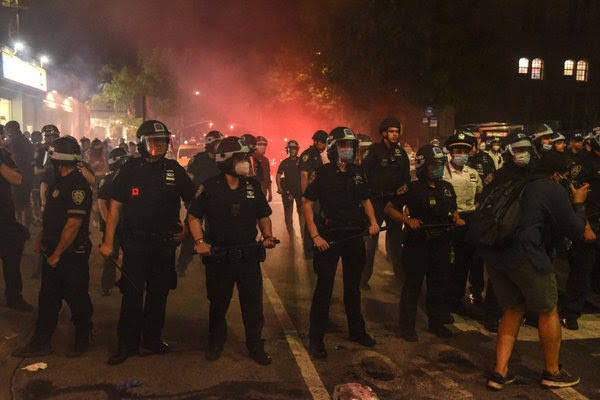 Stephanie Keith for The New York Times
At the same time, the awful reality of racism and a deep racial divide is still very much alive in our country. The murder of George Floyd is horrific and despicable. The outrage over his death has incited a wave of demonstrations and unrest across the country. These demonstrations haved invoked emotion from the 1992 Rodney King riots in Los Angeles and other cities across America. 
The murder of George Floyd is a tragedy. Justice must be brought, and a wider discussion of justice needs to become a centerpiece of focus in our country. I read this morning that just four Fortune 500 companies in America have black CEOs. FOUR out of five hundred. The divide is real, and it's disgusting and we should not stand for it. Three of those four spoke out, and you can read their quotes here.
We live in a world where we launch humans into space, where we have cars drive themselves, and where scientists have literally mapped the human genome. And at the exact same time that we have all of this amazing technology taking us into the future, we still have hate, racism, and bigotry dividing us by keeping us in the past. The reality of what we've been able to accomplish in one realm brings tears of joy and excitement, while the reality of being stuck in a centuries-long, toxic cycle of racism brings tears of pain, sadness, and serious anger. Bryan Stevenson captures the essence of the frustration behind the protests in a beautiful way. If you are not familiar with Bryan, I highly recommend reading his book, Just Mercy. 
While reading the book of Acts recently, the Apostle Paul's words leaped off the screen to me, and I believe they speak to these realities we're facing today.
"So I strive always to keep my conscience clear before God and man." Acts‬ ‭24:16‬ ‭NIV‬‬
As humans, may we unite and strive to keep our conscience clear before God and man. There's a lot to process inside these words, but if you're interested in reading a bit more on that topic, you can read my daily journal about it here. 

Forwarded this newsletter? The Dispatch offers bite-sized chunks of leadership, technology and random tidbits I found interesting this week. 
You can sign up here.

In late 2006, God closed out a novel He had been writing in and through our family, and He birthed a new and fresh vision. This new calling officially started in January, 2007, at Life.Church in Oklahoma. There was a lot of uncertainty, as well as some fear and anxiety wrapped up in the massive leap of faith we took. But with all of the unknowns and uncertainty, there was monumentally more clarity and certainty in this new adventure He was calling us to. I thank God for this opportunity, and I'm so thankful Robin and I had the faith and courage to leap out of something comfortable into something exciting but full of unknowns. 
The last thirteen and a half years have been amazing. Starting something completely new and never done before was what I was built for. The Digerati team was started with humble beginnings of just a single Digerati team member—me. We went from a single idea that then birthed many new ideas and products including YouVersion and Church Online. The idea of taking what we pioneered as Church Online and building a platform for Churches to have their own version of Church Online eventually turned into the Free Church Online Platform. There are so many other ideas that have gone on to succeed, many others have failed, and still others have yet to materialize. Investing our lives into this church and into this team has been the most fulfilling and wonderful experience I could ever imagine. From a single person in 2007 to a Digerati Team that exceeds one hundred fifty people in 2020, this team is wired to leverage technology to reach the world for Christ. Today, that vision has been fulfilled and we literally see every country and territory on earth reached every minute of the day with the life changing message of Jesus! Glory to God! 
Today, a different challenge is in front of us, and it's requiring something new. As we look at the products that have come out of Life.Church and some of the products we desire to come out of these teams, it has become abundantly clear that to accomplish all that God desires, something must change. And that change directly impacts me and my future moving forward. But just like every time God has something big in store for our family, he sows that seed in both Robin and me, and He brings peace into our spirits. This big change is no different, and to best articulate exactly what this looks like, let me allow you to hear from my amazing leader, Bobby Gruenewald, who sent this announcement to our staff a few days back. 
I'm full of emotion as I think about all of this change. I've spent thirteen and a half years building products, features, teams, and ultimately, people. Building people and things is at the center of how God created me, and handing these people and teams off to other leaders comes with great emotion. Yes, there is sadness, but an emotion of overwhelming joy floods over me as I see leaders whom I've had the opportunity to invest in for years rising up and taking on new leadership roles. I know without a doubt that these leaders will take these teams to new horizons that would exceed anything I would have been able to do. Digerati, as we birthed it and grew it, has come to an end. With the official retirement of Digerati, a few new teams and a new group has been born, and I stand ready and excited to see God glorified and more people reached with the life changing message of Jesus Christ. 

And for me, I'm reminded that out of death new life emerges. The day after this discussion started with Bobby, I wrote this post. I'm so thankful that the Holy Spirit did a work in me quickly. Digerati may be gone and retired, but the future is bright and full of new opportunities that need to be identified and born into reality. As the Head of Product, or CPO for Life.Church, it's my calling and mission to turn ideas into reality. I could not think of a better way to close this than with this great quote from an amazing leader.

"If you're offered a seat on a rocket ship, don't ask what seat! Just get on."
— Sheryl Sandberg

Here are a few of my thoughts and writings from the week. You can see them all here, subscribe to the daily RSS feed, or you can have them sent to your inbox.
Reflections on Titus: