Discover more from Thoughts From Terry
The Dispatch covers what I am learning, what I'm reading, and technology tidbits you might find interesting.
Over 3,000 subscribers
Terry Storch Dispatch w.40.2020
Dispatch w.40.2020
"Feel compliments as deeply as you feel insults." -  James Clear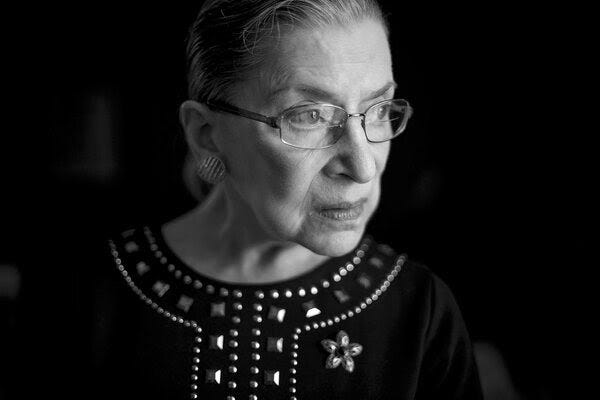 Ginsburg in 2013.Todd Heisler/The New York Times
There is a massive amount of political discussion around the death of Supreme Court Justice, Ruth Bader Ginsberg, or RBG, and the nomination of someone to fill her shoes. I really don't want to step into that hornet's nest. Instead, I want to honor RBG and share my gratitude and thankfulness for her amazing life. 

From theSkimm

Ruth Bader Ginsburg was born Joan Ruth Bader in Brooklyn, New York, in 1933. She met her husband, Marty Ginsburg, at Cornell University. She graduated top of her class from Columbia Law School years later but struggled to find a job at a law firm–not only because she was a woman, but also because she was a mother and Jewish. And this was in the '60s.

How times have changed…

Actually, you can thank RBG for some of those changes. She founded the ACLU's Women's Rights Project, where she won several landmark cases before the Supreme Court on gender equality. Her work helped make changes like giving women the right to open a bank account, obtain a credit card, and secure a mortgage... all without a man's signature. In 1993, Ginsburg was nominated by President Bill Clinton and became the second woman appointed to the Supreme Court. She served on the bench for nearly 30 years, fostering friendships across the political spectrum, yet tirelessly working as part of the court's liberal wing.

Ruth Bader Ginsburg spent her entire career breaking down barriers for women. As a father of two amazing daughters, I am so thankful for RBG, and her tireless efforts in fighting for women's rights and gender equality.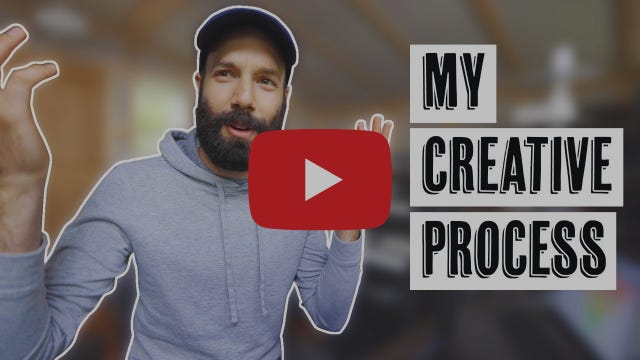 Warning: Language...if that sorta thing bothers you. Thank you, Kyle Smith, for passing along this video to me last week. It's a great 10-minute watch from Jack Conte, CEO of Patreon, who is a musician, singer-songwriter, and entrepreneur. 

The power of the content in this video is the perspective of balancing quality vs. quantity. So often we think that the more time we invest in something, the better it will be. But this is the creative lie and a challenge many face. Jack talks openly about how he has shifted his perspective over time, and how he balances being scrappy and fast with making something that he is proud of. Watch now.

Forwarded this newsletter? The Dispatch offers bite-sized chunks of leadership, technology and random tidbits I found interesting this week. 
You can sign up here.

For the most part, there are always trade-offs. In life, we're always making a trade but not so much a clear cut decision of "better." Seth Godin has a great, quick read about trade-offs. I really like the idea of training ourselves to say, "Oh, good, an interesting trade-off." Read now. 

I share a lot of writings from Ryan Holiday. I think his writing is outstanding, and I often find his perspective really refreshing. Thanks, Cindy, for sharing this article with me. It's entitled, 33 Things I Stole From People Smarter Than Me, and it has so much wisdom! This article was inspired by Ryan's 33rd birthday. Yeah, Ryan is only 33—think about that for a moment, and then read the article.

My favorite 3 of the 33:
I've heard this wisdom from many different writers over the years, but as time passes, the truth of it becomes more and more clear: When someone tells you something is wrong, they're almost always right. When someone tells you how to fix it, they're almost always wrong. This applies to both writing and life. 

PayPal co-founder Peter Thiel said, "Competition is for losers." I loved this the second I heard it. When people compete, somebody loses. So, go where you're the only one. Do what only you can do. Run a race with yourself.

Once, before we had kids, I was in the pool with my wife and couldn't stop suggesting activities: "Do you want to do laps?" I said. "Should we fill up the rafts?" "Here, help me dump out the filter." Eventually, she replied: "You know, you can just be in the pool." That thought had not occurred to me. Still, it rarely does. So I have to be intentional about it. I'm looking forward to adding to this list during my next trip around the sun. More than any individual item on this list, the most important thing I've learned so far is to always keep learning. As the Roman Emperor Marcus Aurelius once wrote, "You could be good today. But instead, you choose tomorrow." That quote haunts me as much as it inspires me. And it does a lot of each. It's worth stealing if you haven't already.

This is the Terry Storch Dispatch w.40.2020. That means that it is the 40th week out of 52 weeks in 2020. Yes, only 12 weeks left in the year 2020. When you hear that, how does it make you feel? What are your thoughts? However you respond to those questions will give you insight on where your motives and areas of contemplation need to rest.

My default and gut level response is to teleport out of the hell that has been 2020. However, that gut response and answer reveals so much. It gives me a lot of insight into some areas I need to find rest in and seek wisdom in. And this is why the quote from Roman Emperor Marcus Aurelius speaks to me so much: "You could be good today. But instead, you choose tomorrow." I need to resist the need to be in tomorrow or the future, and recognize that today is where I am and where I need to be.